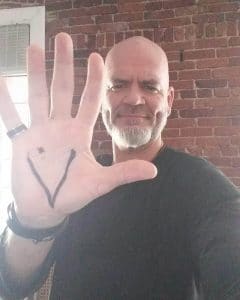 Before I share a few nifty things I've personally experienced / participated in over the weekend, first things first:
Today (11-11-19), V is for Veteran. Please take a moment to celebrate those who have served, are serving, or those who have loved ones who are making the ultimate commitment to our country.
Honoring the sacrifices made (whether in combat, war or during peace time) for our security, safety and freedom is the very foundation of THIS day.
To "those who gave some… AND… to those who gave all"… I SALUTE YOU!
I just got around to watching this masterfully-directed movie (don't let Angelina Jolie in the chair fool you). Released in 2014, Unrboken is the unimaginable true story of American hero Louis "Louie" Zamperini. Every half hour I found myself muttering things like, "Ohhh shiiiit, no way. Thaaaat happened?" or "Damn, Louie, your courage and mental resolve is second to none!" or "He is a living example of legit forgiveness; or letting go of the past… and the desire to change it or how it affected you."
If you're into a real-life shining example of how willpower and human resilience can help you also 'get past' your most unthinkable experiences come to light, then view the trailer, schedule a time to watch it on demand… and enjoy.
BRAIN TRAINING
I continue to garner incredibly-useful growth every-time I use one of the entertainment .mp3s produced by my friends over at Inspire3.
Karl and Andrew, via this quick article, give a run-down on the actionable things you can do to improve your mental acuity and empower how you feel… well… powerful everyday. The link to get access to their .mp3s are at the bottom of the linked article above.
THE WOODEN FLAG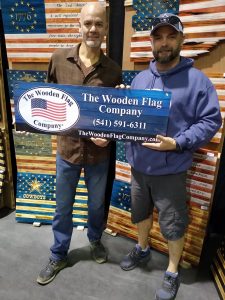 From framed and epoxy filled flags…. to… flag fronted concealment boxes with RFID security, you'll find some very unique, beautifully crafted representations of Old Glory at The Wooden Flag Company.
I met Scott yesterday at a local craft fair. Based out of K-Falls, Oregon (Klamath Falls), this small Mom 'n Pop company is dedicated to quality hand-made, custom wood flags.
Just tell Scott and/or Jason what you want and they'll let you know if they can do it (most likey they can) and/or check out their online shop. Click on any choice, then you can narrow it down by color, size, design choices, etc.
BACK / LEG PAIN?
I haven't shared the details on my almost year long challenge to get my leg pain under control. But as I feel I'm starting to paddle downstream with it now, rest assured I'll say more soon. Until then, what I've been experiencing (i.e., left hamstring constantly throbbing; shooting nerve-like pain from hip, a sacroiliac joint that has a hard time rotating, moving naturally) I don't wish upon anybody… even the most evil human on the planet. That's just how painful this has been.
But, with any major challenge (physical, too), there are deeper lessons. The traditional methods you see on this page, I've been through them all (except cortisone injections, surgery). Despite the incessant pain (sometimes unbearable), my primary Doc encouraged me to stay on the holistic route (Active Release chiro, physical therapy, acupuncture, even CranioSacral therapy – the most effective so far). I'm glad he did, as the expensive appointments, medications and only next-step solution (surgery: so I thought) is futile.
What isn't is addressing the underlying root causes (9 times out of 10, it's more than just ONE), which starts by having a definitive understanding of bio-mechanics, joint architecture and the neurovcascular system. Then having the know-how to open-up and reshape the lower lumbar spine. Even if the pain is elsewhere, like mine (hip / hamstring), you'll find that that area is the key. I can't recommend Rick Kaselj's BR3-Method highly enough. Learn about it and use it. You'll thank me later.